Satisfactory and pleasant.
Good and solid experience.
Scallion oil noodles
Thai basil rice
BlueMary Mojito
Organic green tea
We started off with a simple dish – scallion oil noodles and it was a simple dish packed with great flavours. The appearance can be as simple as boiled noodles coated with scallion oil and topped with carrot strips, spring onion and dried bean curd. However, it gives your taste buds a wonderful bland of taste, proving the concept of "Less is more".
Next up is the Thai basil rice, which is a stir-fry dish made with finely chopped chicken cooked with chili, peppers, garlic, basil leaf and seasoned with a sweet and salty sauce. The set meal came with brown rice, pickled cucumber and tomato, and assorted fruits as dessert.
Although the chicken was replaced with plant-based meat for vegans, it is loaded with mouth-watering flavours.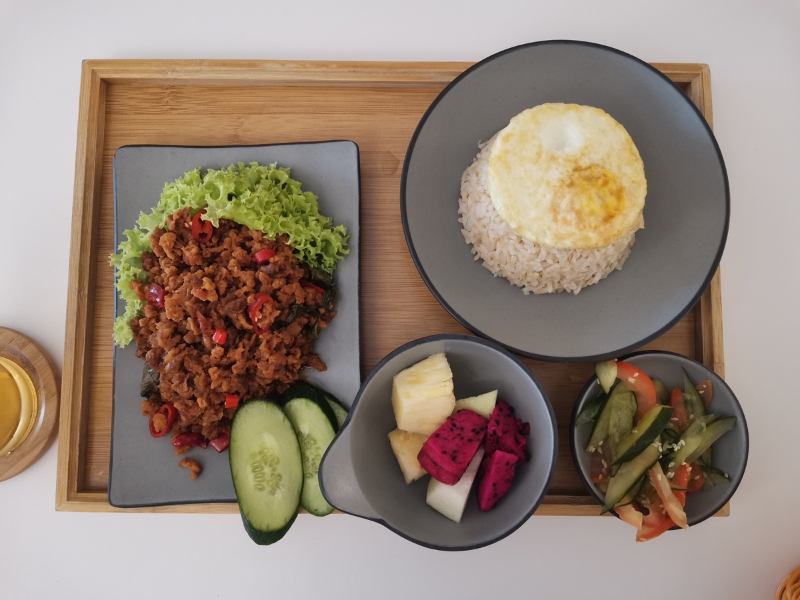 Of course, the meal will not be complete without a drink! First up, we had the BlueMary Mojito – a delightful fusion of flavors that will take your taste buds on an extraordinary journey.
This tantalising drink begins with a generous measure of golden honey and is complemented with a splash of freshly squeezed tomato, infusing the drink with a subtle hint of garden-fresh flavors. 
But what truly makes the BlueMary Mojito an extraordinary delight is the aromatic touch of rosemary. Sprigs of fragrant rosemary are carefully muddled in the glass, releasing their herbal essence and mingling with the honey and tomato in a harmonious symphony of taste and aroma.
Overall, Moya café provides a very cozy environment for you to have a sip of vegan coffee, snack on some cake, and eat tasty plant-based meals. Moya's diverse menu features a delightful array of vegan dishes crafted with love and care, all at an affordable price.
The food here can be rather bland but it is perfect for those who are looking for something light and healthy.