Omu & friends
Tori Karaage Teishoku
Lemonade
Buranchi, just as its name suggests, offers a delightful of Japanese and Western fusion cuisines. Among its menu were sandwiches, sausage buns and traditional onigiri. However, one dish stood out as a true gem — the Omu & Friends.
The Omu & friends dish is a symphony of flavors and textures artfully combined. At its heart is a velvety cheese omelet, cooked to perfection. Accompanying this centerpiece are sautéed mushrooms that lend an earthy richness, complemented by the irresistible aroma of pork bacon.
For a whimsical twist, the dish features fried mashed potatoes, adding a delightful crispiness that surprises the palate. As a fresh contrast, a side salad brings a burst of color and a touch of lightness to the ensemble.
An additional highlight on the menu that drew our interest was the Tori Karaage Teishoku set lunch. This dish presents a delightful ensemble of flavors and textures, centered around the irresistible appeal of deep-fried chicken. Complementing this culinary star, the set includes a comforting bowl of miso soup that warms the senses and prepares the palate for the journey ahead.
As a delightful side, chawanmushi, a delicate savory egg custard, added a touch of refined taste to the composition. The dish was concluded with a delightful chocolate mousse dessert, rounding off the meal with a touch of sweetness.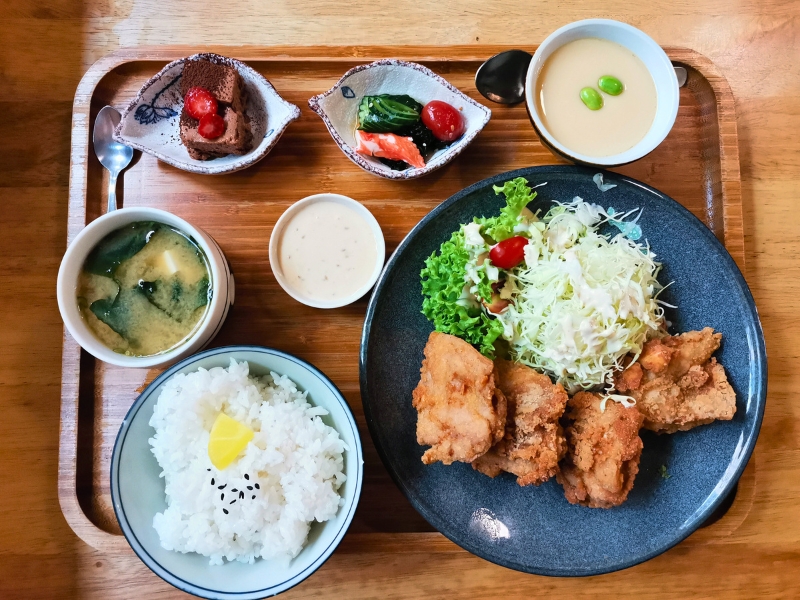 As for the drinks, we ordered Ocha and lemonade, which complemented our dining experience in their own unique ways. The Ocha, carefully crafted from roasted green tea, stood out as a harmonious partner to the Tori Karaage Teishoku. Its smooth and earthy essence acted as a palate cleanser, skillfully alleviating any lingering traces of richness from the deep-fried chicken.
In contrast, the lemonade presented an invigorating burst of refreshment. It is also infused with a whisper of peppermint, as it tantalize our taste buds with its crisp and revitalizing character.
Ocha (comes with Tori
Karaage Teishoku set lunch)
From the moment we step inside, we were immediately enveloped by a warm and cozy atmosphere. The soft lighting and decoration there create a cozy space that encouraged relaxation and connection, allowing us to savor each moment.
Meanwhile, the food and drinks at the café were like a delicious adventure. The culinary team made sure that everything tasted just right, so nothing was too strong or too plain.
Lastly, we think that Buranchi is more than a mere dining destination. It is a place that offers an encompassing experience that is both memorable and shareable.