Enjoyable and satisfying.
Cheezy Chicken Chop
Tamago Mentai
Passion soda
Matcha lemonade 
In search of a cozy café in Seri Kembangan, we found October's Food Craft & Coffee in Taman Equine. During our visit at this charming neighborhood café, we were captivated by its warm and welcoming ambiance. The menu at October's Food Craft & Coffee offers a delightful array of options to cater to various tastes. On this visit, we decided to sample their Cheezy Chicken Chop, Tamago Mentai, and two intriguing beverages — Passion Soda and Matcha Lemonade.
First up, the Cheezy Chicken Chop. Served with a generous portion of fries and salad, this dish was an absolute delight. The chicken was tender and succulent, cooked to perfection. The crowning glory was the cheezy sauce drizzled over the chicken, adorned with a sprinkle of parsley flakes. The cheese was just the right amount – not too greasy, yet flavorful enough to satisfy cheese lovers. It was so tender that it practically melted in mouth.
Next, we decided to go for something lighter and opted for the Tamago Mentai. This dish was a healthier choice, accompanied by a fresh salad and a fluffy Japanese omelet. What set it apart was the topping of fried seaweed shreds, which added a delightful crunch and a hint of sea flavor. It was a delightful fusion of textures and tastes.
For drinks, we ordered the Passion Soda. From the first sip, I was hit with the effervescent and zesty sensation of passion fruit soda. It was the perfect drink to beat the heat, with its refreshing and slightly tangy notes. This beverage definitely left me feeling invigorated.
Lastly, we couldn't resist trying the Matcha Lemonade. This concoction was a harmonious blend of tanginess and sweetness, all tied together with the earthy undertones of matcha. It was a unique and intriguing flavor combination that left taste buds thoroughly satisfied.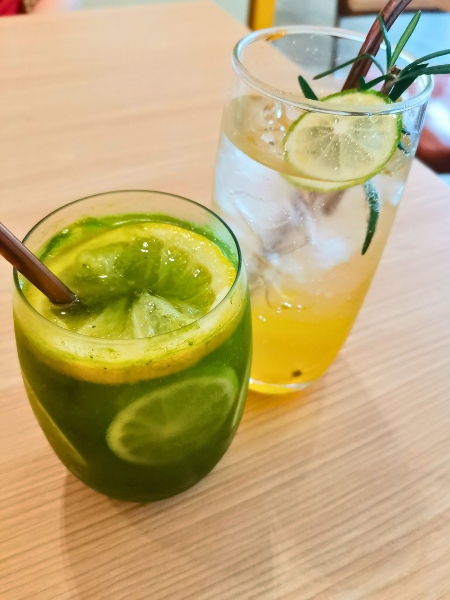 Our visit to October's Food Craft & Coffee was nothing short of delightful. The café's inviting ambiance and delectable menu offerings make it a gem in the Seri Kembangan neighborhood. Whether you're craving a hearty meal or a refreshing beverage, October's has something for everyone. We left with a contented belly and a smile on our face, already planning our next visit to this charming neighborhood café. If you're in the area, we highly recommend stopping by for a culinary experience that's sure to leave you wanting more.